Welcome to the 7 County Austins website. We are a family business that supplies a wide range Austin 7 spares. We have a range of good quality new, used and reconditioned parts for the pre-war Austin Seven. The website shows only a selection of the Austin Seven spare parts that we can supply so even if you cannot find what you want please give us a call as we may still be able to help.
We are a company started by enthusiasts for enthusiasts, we are always happy to give advice to fellow owners, on maintaining or restoring your car, call Tony or Tracy on 0116 2867522 between 9am and 9pm
We offer a prompt postal service by Royal Mail or Courier, Postage charges are estimated at point of order. Orders can also be collected by prior appointment from our premises which are conveniently situated 5 minutes from J21 of the M1 - see map on Contact page.
We do NOT charge VAT Please make all cheques payable to A. P. BETTS.
From the 4th May to 29th September we will not be able to take telephone orders on weekends, however please feel free to call us Monday to Friday 9am to 7pm as usual.
Updated 28/7/2016 - 3 items added to top of used parts page.
25/7/2016 - 4 items added to top of used parts page.
---
For sale is our Ulster kit, this is a chance to build an original Ulster. Original 1931 sports chassis correct rear axle mount for sports, with original rivets. Chassis number 145964.
There is an original pressure fed Ulster engine, deep sump, and 10 stud block. Engine number 144558. The body is one of the first built by Ray Pettit. Late 1970 early 1980s. In rough condition. But proof to the DVLA it's over 25 years old. In the pictures are the main parts of the kit. 9E column and Ulster wheel. There are also boxes of the small parts, ie drums, starter, Dynamo etc. This is an exciting chance for someone to build as close to an original Ulster you will find today. There is no documentation, or V5c. But with the body it is eligible even for an age related number. This kit is 90% complete, the parts I know are missing are road springs, wings, screen and hood/or fly screens depending which way you go.








£19,500 Ono.
---
Back in stock 3 speed remote gear levers. We have managed to keep the price the same as last batch
£375
---
NEW ATLA aluminium sports heads. Ideal for Austin 7s and Brough Superior motorcycles. £300 fully machined.

---
We have had made a small batch of Arrow door sill plates, 10 pairs only. So first come first served. These are an exact copy of the originals shown in the same
pictures. Price £65.00 pair.
---
Switch panel brass connecting strip. Most of these are damaged, pic one stows the switch panel. Pic two shows the reverse with damaged and soldered brass strip pic three shows the panel with new strip fitted. Price £4
---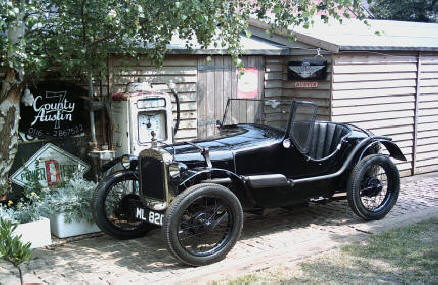 The Family car - a 1928 Super Sports