Welcome to the 7 County Austins website. We are a family business that supplies a wide range Austin 7 spares. We have a range of good quality new, used and reconditioned parts for the pre-war Austin Seven. The website shows only a selection of the Austin Seven spare parts that we can supply so even if you cannot find what you want please give us a call as we may still be able to help.
We are a company started by enthusiasts for enthusiasts, we are always happy to give advice to fellow owners, on maintaining or restoring your car, call Tony or Tracy on 0116 2867522 between 9am and 9pm
We offer a prompt postal service by Royal Mail or Courier, Postage charges are estimated at point of order. Orders can also be collected by prior appointment from our premises which are conveniently situated 5 minutes from J21 of the M1 - see map on Contact page.
We do NOT charge VAT Please make all cheques payable to A. P. BETTS.
Latest news - Updated 10/5/2013

From the 4th May to 29th September we will not be able to take telephone orders on weekends, however please feel free to call us Monday to Friday 9am to 7pm as usual.

NEW ITEMS PRODUCED THIS YEAR.
---
Uncoupled brake cross shaft made from solid bar so stronger but heavier.
£18.00
---
Replacement cut-out covers for CFR1 and SB5 cut-outs for the Austin 7 and Morris and others. Available in black or brown.
£18.00 each.
---
Economy set of twin front dampers for the Austin 7, they pick-up on the original fittings so a straight replacement.
£80.00 set
---
Nippy door locks
---
---

---
New primer oiler for 3 speed gearboxes, this was an accessory of the day to be fitted, as shown, to the 3 speed gearbox.
This way you dont need to remove the aluminium flap to oil the clutch thrust bearing you just lift the flap and fill the reservoir.
(please note when fitting you need to shorten the funnel in the top of the clutch thrust bearing and you may have to adjust the oil tube on the prima so it lines up).
The originals of these are extremely rare and on the odd occasion they do come up for sale they are very very expensive.
£35 each plus £4 p&p
Ulster windscreen pillars

Rear chassis extensions for cars 1928 to 1934
Rear damper mounting plates for cars 1926 and 1927



---
If you would like to receive details of our special offers and latest projects by e-mail please register by clicking here and sending an email with your details.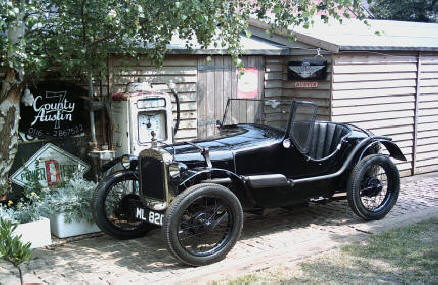 The Family car - a 1928 Super Sports